Pendo and her husband, Lucas, are two aspiring entrepreneurs hailing from the village of Zepisa, located in the Dodoma region of Tanzania. In addition to being maize, groundnut and sunflower farmers, they own a tailoring business and a tailoring training centre, which caters to the ever-growing needs in the region.
The tailoring business designs and stitches male and female clothing and receives orders for school uniforms. Before starting his business, Lucas had attended a two-year vocational training for tailoring in 2004, at the YMCA college in Dodoma. A year after his graduation, in 2007, he started his tailoring business. This business employs three additional people and has three apprentices in training. They currently use eight sewing machines (four solar, four manual). Pendo, being a well known local entrepreneur in the region has been able to champion good connections with the local community development department and other entrepreneurs in the region.
However, their entrepreneurial spirits were constrained by issues around the outdated tailoring technology which is very similar in other parts of the world. They initially owned only manual tailoring machines which required constant foot movement to power it. This inefficient method caused many problems such as physical exhaustion with swollen legs and an aching back. They were also not able to complete their tailoring orders in time. This led them to compromise the quality of the training they imparted at their training centre. Moreover, Pendo and Lucas were further constrained by the lack of availability of light in the evening, which rendered their tailoring abilities stagnant at those times.
KAKUTE identified these challenges through the Ward Executive officer, Mr. Mofu. After the initial identification of the entrepreneur through a local enterprise, a need assessment was conducted to understand gaps in the entrepreneurs' livelihoods. The suggested solution involved an entire ecosystem of interventions: Pendo and Lucas received solar powered sewing machines and a solar powered light bulb. It eased their strenuous efforts and offered them the opportunity to work post sunset.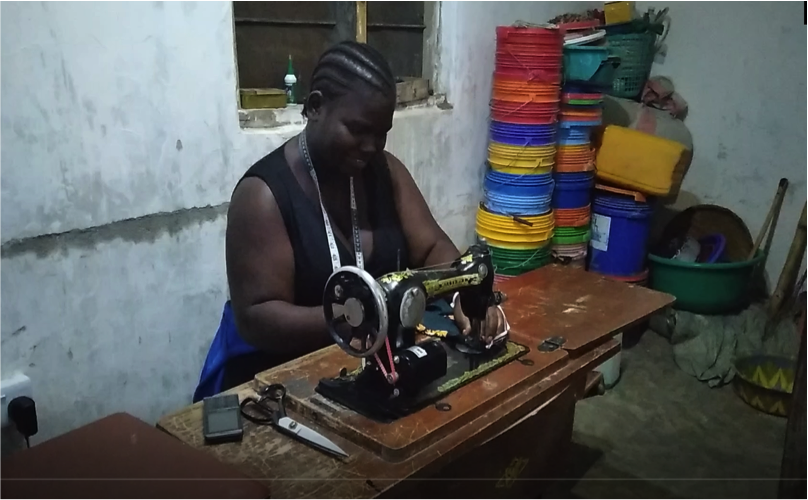 To make sure that there is a local supporting system for repairing and maintaining the solar powered machines, technicians from Don BoscoNet and the incubatees from IMED foundation's program were closely involved in the project. Further, KAKUTE also provided training on bookkeeping and business development to help Pendo and Lucas run their businesses more efficiently. This entire ecosystem of gap identification and resolution from various partners helped the entrepreneurial couple in many spheres as follows:
They were able to ramp up their daily productivity by a good 75-100%: from five pairs of trousers and four dresses a day to ten trousers and seven dresses a day, on top of a constant barrage of school uniform orders.
The increased productivity enabled Pendo and Lucas to think of diversifying their entrepreneurial activities by opening a shop in their village (not yet opened, they are saving money for it).
A reduction in the physical effort of running the sewing business had a positive impact on the quality of their training centre. They were able to devote more time and effort to their trainees, which would help create a cadre of tailors who would be able to serve the community better.
On top of all these things, because of the light bulb, Pendo and Lucas were able to work in the evenings, thereby lengthening their work time while simultaneously decreasing their work effort.
Their monthly income increased by TZS 800,000. Their monthly savings are now in the range of TZS 100,000 – 200,000.
Apart from these quantitative benefits of the solar-powered machines, these host of interventions managed to effectively expand the opportunities that the family had reason to value. Earlier, existing structural barriers such as physical effort and low efficiency of manual machines restricted Pendo and Lucas from pursuing livelihoods that they valued. Post-intervention, even though they work eight to twelve hours a day (compared to six earlier), it reflects the increased set of opportunities that Pendo and Lucas have now. The case for deploying such decentralized solutions does not just involve technology but also a mix of factors that lead to its sustainability:
Availability of local vocational training institutes to develop skill sets thus enabling local entrepreneurship and self reliance. Further this also led to local job creation via the tailoring business.
Technology deployment that involved site assessments to ensure technology appropriateness, installation and after sales service along with local technicians and energy enterprises.
Having other businesses resulted in basic entrepreneurial business acumen. However additional business development training supported enhancement of efficiency.
Reasonable presence of existing market linkages for finished products particularly for the traditional attire and school uniforms. This surety led to the confidence of scaling production, taking on more orders and diversifying business.
Connections with local government departments with aligned projects and activities to local livelihood generation. Tapping into these connections are useful to avail government benefits or programs.
Accessibility of local financing via SACCOs (Savings and Credit Co-operative Society) thus providing an avenue to tailor potential financial models to suit cash flows of the entrepreneur and spur similar credit access to other tailoring enterprises.
Thus, such interventions aid not only the economic development of the individual, household, and the local economy but also aids the entrepreneurial aspiration of the champion entrepreneurs. KAKUTE in partnership with Global SDG 7 Hubs (an initiative of SELCO Foundation) seeks to develop these grassroots technologies and supporting ecosystems in Tanzania in order to demonstrate models of sustainable livelihoods powered via decentralized energy. This program draws from analogous solar powered livelihood interventions in other parts of the world where similar technologies have been deployed using a need based, inclusive, ecosystem centric approach. Collectively this supports evidence of the need for viable decentralized solutions suited to local conditions.
Co-authored by Mr. Livinus Manyanga, KAKUTE and Global SDG7 Hubs team.